Beaches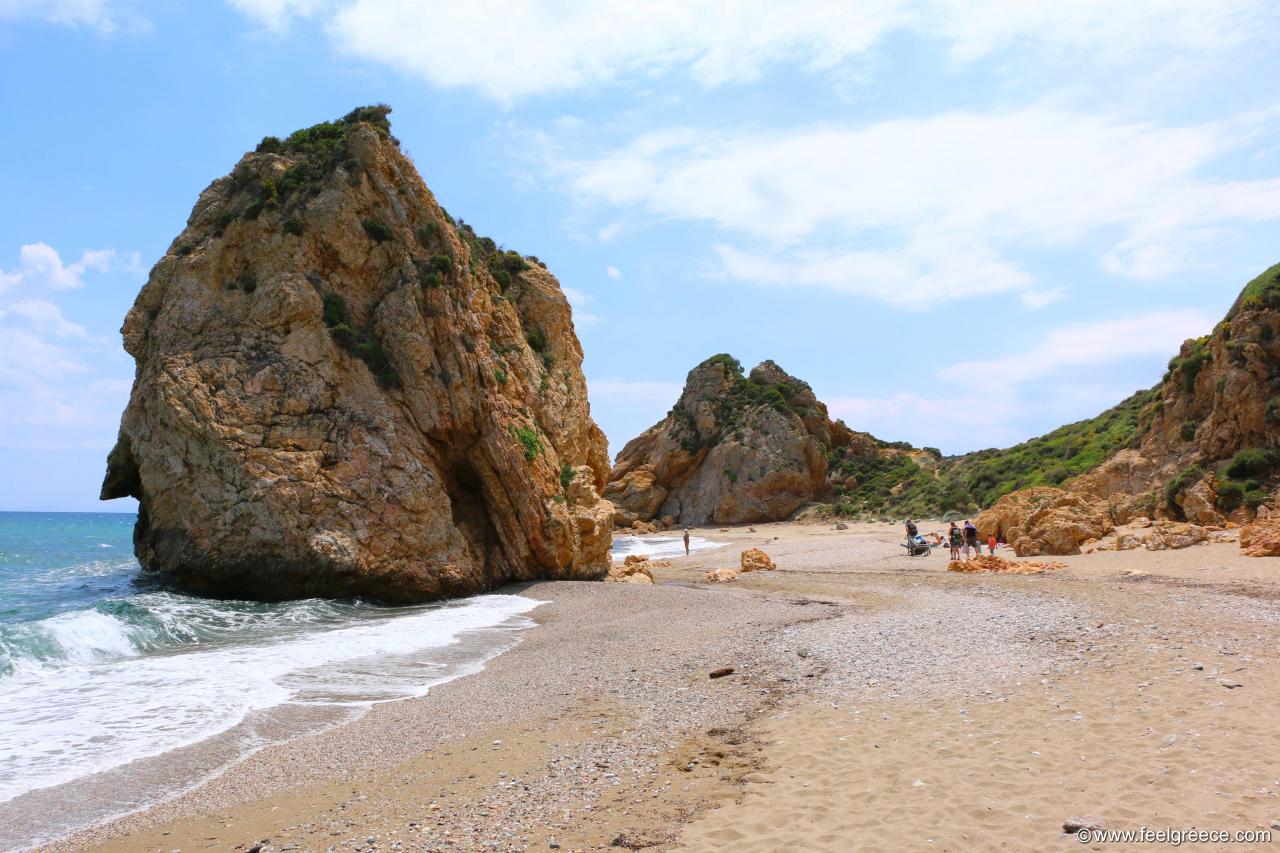 Our favourite local beaches and why we like them enough to name our 20 rooms after some of them!
Mikro
Mikro beach is approximately 10 km. from Lafkos on mainly asphalt road with great views over Skiathos and Evia as you descend to the Aegean sea.  The beach is sandy with two sea front tavernas offering tasty Greek dishes. There is a 15 minute walk to Platanias with its coffee shops and a mini-market or, in season, you can take a short boat trip there along the coast.  Excellent for children.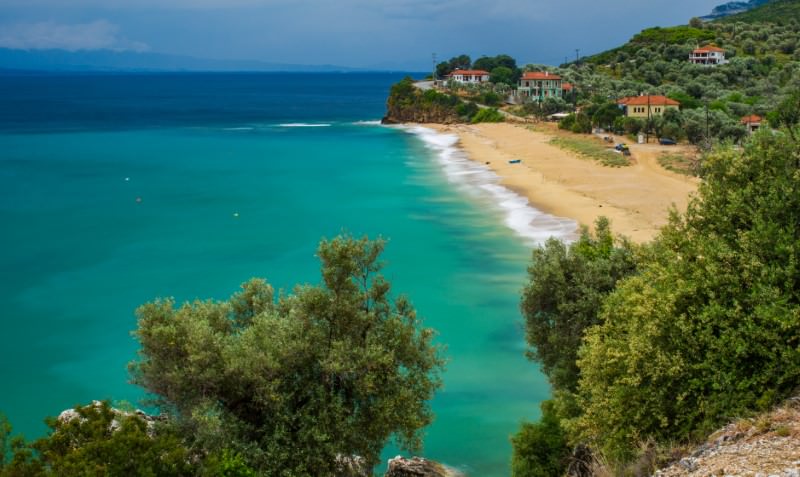 Potistika
Also on the Aegean side and adjacent to Melani beach, with easy access and parking this more sophisticated sandy beach with rocky features has sunbeds /umbrellas available as well as a well-known beach-bar and restaurant. The water is perfect although quite steeply shelving.  There are spots for solitude a short distance from the entrance to the beach which is never full, even in August. In Melani beach near the rocks on the left hand side, nudism is tolerated.  ( 20  km from Lafkos).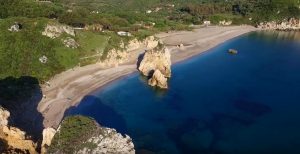 Tzasteni
On the Pagasittic gulf, a 20 minute drive from Lafkos. a short path leads you to the picture postcard idyll of Tzasteni.  This cove is often visited by sailing boats and the narrow beach is sandy.  The view is quite stunning and the water limpid and always warm, out of any wind.  The sandy beach of Marathias is close by with tavernas and a beach-bar with sunbeds.  In summer months wind-surfers criss cross the bay well away from the beach which shelves gently into a calm sea.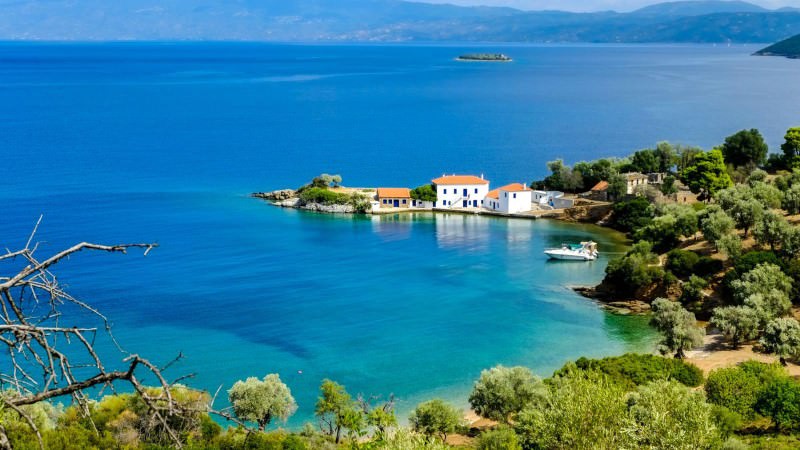 Mourtias
Almost opposite the island of Skiathos is Mourtias beach which attracts beachcombers as well as those with their own umbrellas.  A protective wall of reddish rocks, called loumbarda, has created a large natural swimming pool suitable for all ages.  Mourtias has no tourist facilities but is a very attractive choice for a pic-nic. Katigiorgis, just nearby, has good tavenas on its smaller beach. Drive the 14 km. on the higher road via Promyri or along the newer road, both with amazing views.  Stop off at Theotokos to see the fishermen's chapel and Byzantine ruins.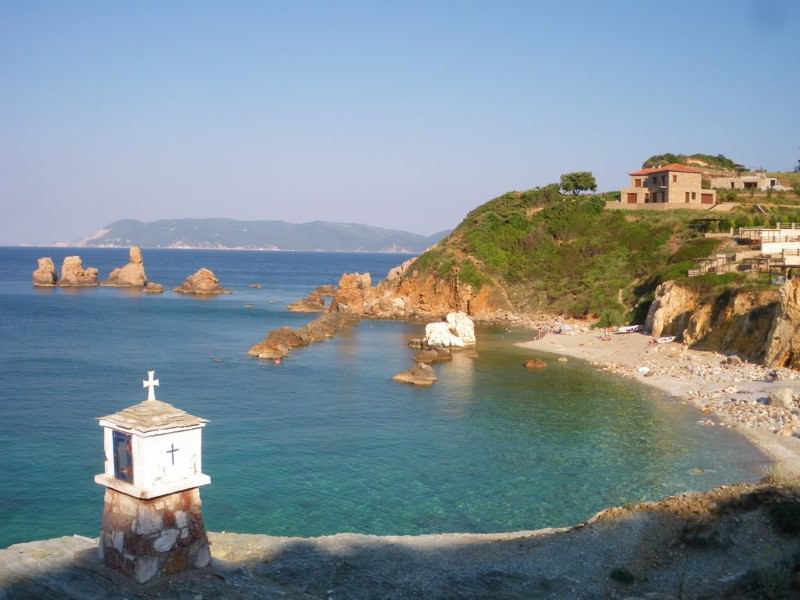 Lambinou
This exciting beach is well worth the 30 km drive along the wild Aegean eastern coast,  passing the villages of Neohori and Propan.The road to Lambinou drops steeply down to a parking above a taverna.  From there a flight of steps takes you down to the secluded beach.  Some years sunbeds are available but it might be advisable to take your own parasol.  The monastery of Panagia Lampidona is situated just above the beach – according to tradition a divine glow (lampidona), led a captain to a safe harbour where he built the monastery. The beach, of coarse sand, is located at the foot of a gorge between two rocky headlands, which are fascinating to explore.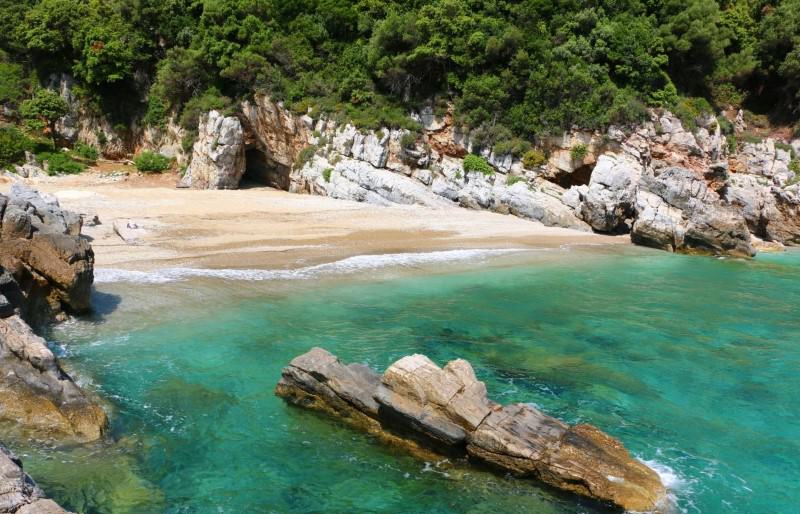 Other local beaches after which our rooms are named include Potoki, Hondri Ammos, Prasini Ammos, Razi, Kastri, Kalamaki, Paltsi, Paou, Lyri and Marmaro.
Milina
This is the nearest beach to Lagou Raxi, a 40 minute walk on one of the kalderimia (stone path) leading down to the Pagasitic coast, or a 10 minute car ride.  Milina is a lush village full of flower and vegetable gardens, citrus trees with a good selection of tavernas, cafeterias and shops.  The coast road passes in front of many of these and the sun sets behind the monastery island of Alatas.  The beaches at Milina are mostly narrow but are child friendly and popular with Greek families.  Many yachts are moored in Valtoudi bay to the south and the gorgeous Vathispilia (deep caves) beach is walking distance to the north.  One or two of the cafeteria near the little port offer sunbeds and you will also find some night bars.