South Pelion Trail – Hiking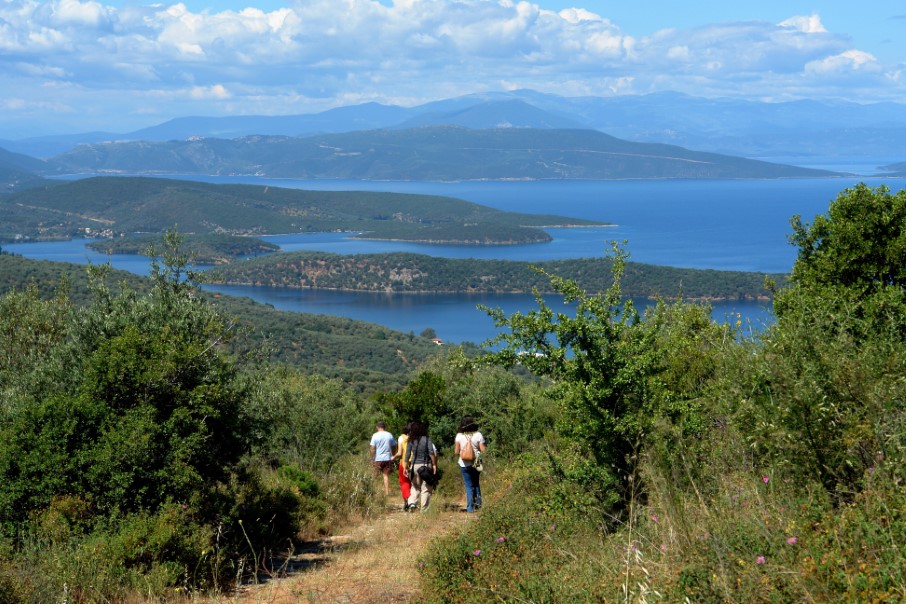 This walking holiday is based in Lafkos at the acclaimed Lagou Raxi Country Hotel (*** plus) in the heart of Pelion walking country.
Starting from the beach of Kato Gatzea beside the Pagasitic Gulf, the South Pelion Trail goes through the villages of Agios Georgios, Pinakates, Vizitsa, Milies, Neochori, Siki, Xinovrisi, Argalasti and Lafkos, ending at the seaside village of Platania at the Aegean Sea. Through the routes of the kalderimi visitors can discover all the hidden beauties of Pelion nature:  flowers and trees are to be found in bloom all year round.
The Trail can be walked comfortably in 5 days.  Each morning and evening walkers will be taken and returned to Lagou Raxi Country Hotel. Breakfast and dinner are included and a packed lunch provided for each day.  Lagou Raxi is open all year and has a large swimming pool and tennis court and the best view of the area, westwards over the Pagasitic inland sea.
The ideal time to walk the South Pelion Trail is September to June, throughout the spring, autumn and winter. These paths were used in the past to travel from village to village and to the nearby small fishing ports. The Trail was researched, cleared and signed by the Friends of Kalderimi of South Pelion (www.friendsofthekalderimi.org) and Orivatikos Alpine Club of Volos, with help from local associations and individuals on a volunteer basis. Guides can be provided for groups if requested.
The hotel is situated within 5 minutes walk of the traditional square of Lafkos with its tavernas, churches and three museums. The rooms are spacious and enjoy free Wi-Fi and digital T.V.  as well as underfloor heating for the winter. All our 20 rooms are named after local beaches.
5-7 nights Lagou Raxi Country Hotel. Delivery to start/finish point of each day of the 5-day Trail.  We suggest a break of one day during the Trail walk!
Cost 295,00€ per person plus a room reservation, of your choice for 5 or 7,  days.
Choose "South Pelion Trail" in the extras while you are booking your room. Package already includes 5 transfers to start and from finish point for the 5-day Trail, 5 dinners, 5 packed lunches.