Local churches, chapels and monasteries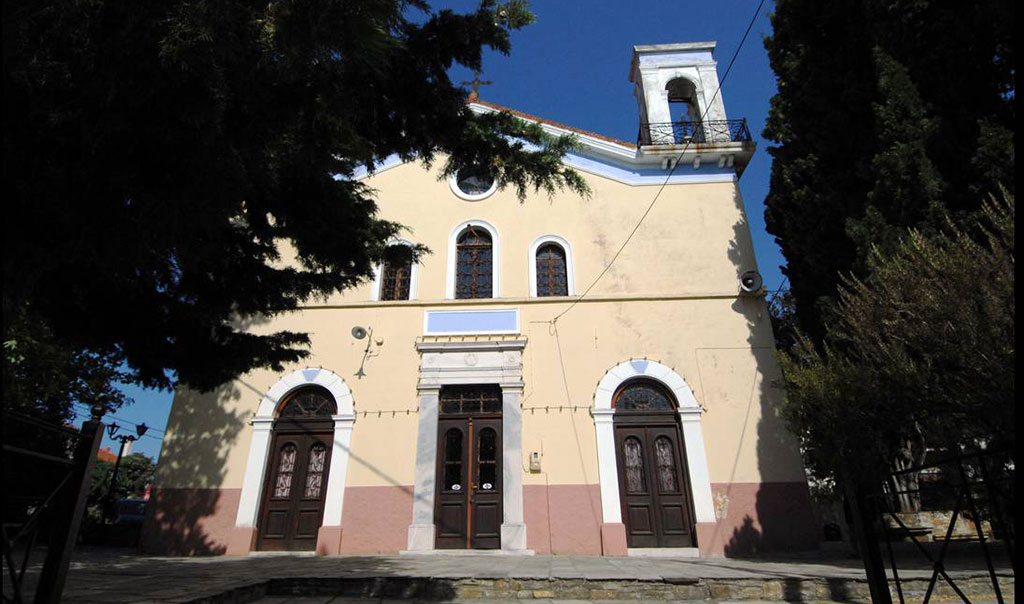 The inhabitants of the whole of Pelion, including the South, have a long history of constructing places of worship.  Many of the churches are highly decorated, others not so, but all have their own history and many are linked to old Pelion families.
Lafkos
The main church in the village is "Ieros naos Genniseos Tis Theotokou" , a substantial and imposing building on the central car free "plateia" or square.  Agia Paraskevi (St. Paraskevi) is close to Lagou Raxi and is a charming small chapel, part painted in sky blue, which overlooks the whole village.  Both churches have panigyri  – festival day on their name days 10/11 September and 25/26 July respectively.  Surrounding the village are several smaller chapels including Profitis Ilias at 2km. The monastery "Agiou Athanasiou" which is 8 km. From Lafkos. is the place where the whole village celebrates  the 1st and 2nd of May, many staying overnight in the Monastery building.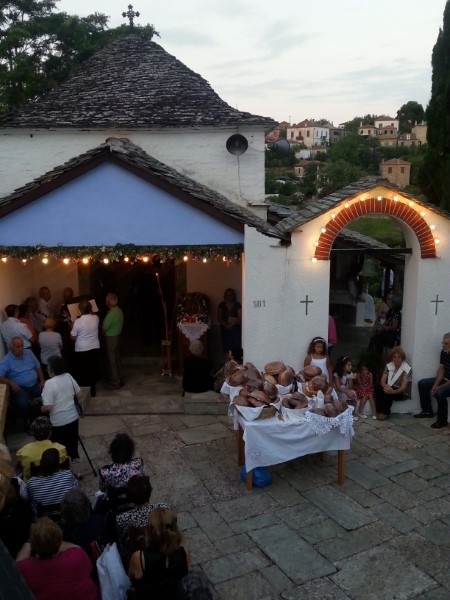 Other churches in walking distance
Metochi "Zoodochou Piggis" chapel was built around 1830.
Two St. John chapels on the longer kalderimi route c Milina.
Chapel "Panagitsa" on the direct kalderimi route a to Milina.
South Pelion monasteries:
"Agios Nikolaos", Paou (15 minutes by car).
"Moni Panagias", Trikeri Island (1 ½ hrs. by car).
"Moni Timiou Prothromou", Siki (now a nunnery) (30 minutes by car).
"Moni Agiou Spiridon", Promiri (15 minutes by car).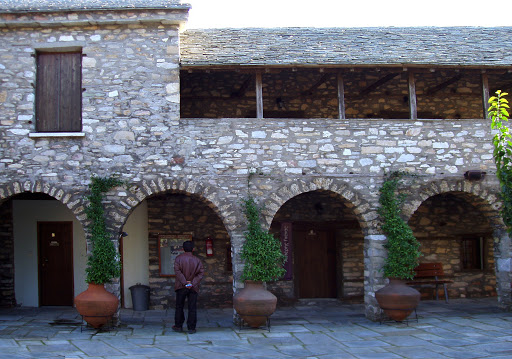 Highly decorated churches:
"Pammegiston Taxiarchon" in Milies
"Agia Marina", Kissos (East Pelion, near Tsagarada).
The chapel at Paou Monastery
The church in the central South Pelion village of Argalasti (10 minutes by car) is a trikliti (triforium) basilica church of "Agioi Apostoli", with its imposing marble bell tower, which is a replica of the belfry of the church "Agia Fotini" in Smyrna.  The two bells are from Russia and the clock is Swiss.